Insanity vs P90x – Which of those two workouts is better (for you)?
Shortly after I had written the reviews for P90x and Insanity, I decided to write a comparison of Insanity vs P90x. Both programs are often being compared against each other since they seem to be very similar. Now, since both of my reviews are pretty comprehensive, I won't go into detail about the two products, I will focus on the differences instead. So, stay with me to find out which workout wins the duel Insanity vs P90x.
Which one is right for you Insanity or p90x?
Tony Horton's P90x and Shaun T's Insanity seem to be very similar; however there are a few differences that you should be aware of. To find out which program is the right one for you, I suggest that you reconsider what your goals are. Do you mainly want to get fitter and lose weight or are you more interested in also building up muscles? This will have a definite impact on which one is better for you.
P90x vs Insanity Workout – Which training principle is better?
P90x uses a training principle called Muscle Confusion, which means that the training has a lot of variations to "surprise" your muscles when they adjusted to the training. This helps you to avoid the usual training plateaus and will strengthen your muscles throughout the 90 days. Shaun T.'s Insanity uses the Max Interval Training technique instead. This technique focuses on pushing you to your limits by doing high-intensity exercises with short or no breaks. Again, it depends on you which one of the two is better. Both programs won't help you bulk up muscles, but P90x will yield you better results, if strengthening your muscles is what you're after. Insanity focuses more on burning fat and endurance training.
Watch this video and see what P90x is ALL about.
Insanity vs p90x – What fits your schedule better?
The workout schedule of P90x and Insanity are pretty similar – both require you to exercise on 6 days of the week. However, in general in can be said that the workouts of the P90x program take a bit longer, 55 minutes on average as compared to 45 minutes. Also the P90x program requires you to commit to it for 90 days whereas Insanity only requires 60 days. What is better depends on what you can fit in your schedule. As the results of both programs require you to continue working out afterwards, you may be interested to know that it's possible to use both programs repeatedly. Many users do this what they call "cycles" with great success.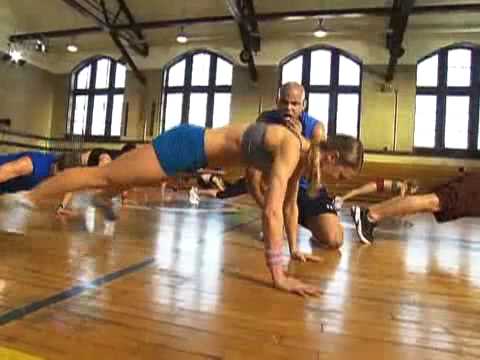 Watch this video to see what Insanity Workout is offering.
Insanity vs P90x – Which equipment do you need to buy?
Both Insanity and P90x come at the price of about $ 120, which is quite an investment already. So it is only natural that you don't want to spend a whole lot of money more after that. However, if you don't have any training equipment at your home, yet, you may need a few things before you can get started. With Insanity, all you need is a Plyometrics matt (you can also use a Yoga matt) and a heart rate monitor. P90x requires a bit more equipment. You absolutely need resistance bands and a Yoga matt, but it is also recommended that you get dumbbells, a chin-up bar, yoga blocks, and a heart rate monitor. This doesn't mean that one of the two programs is better. It's just as I already mentioned; P90x focuses more on muscle strength and hence needs a bit of training equipment. Insanity's main goal is fat burning and endurance training, so that using only your body weight is sufficient.


What comes with the packages?
Both of the two programs come with a workout calendar, a fitness guide, and a nutrition guide besides of the main workout DVDs. P90x consists of 12 DVDs and Insanity consists of 10 DVDs. Both are very comprehensive and help you work all important areas of your body. Also, they both include stretching and regeneration workouts. So they are almost equal when it comes to this aspect.
Insanity vs P90x – Breaking it down
As you can see, P90x and Insanity are pretty similar to each other. This can lead to some confusion and this is why I want to point a few things out:
Both programs are very hard, but they also bring you great results. P90x is a bit easier to get started with while Insanity is better suited for someone who already has some training experience.
Insanity will mainly help you:

Reach a higher endurance / Do Cardio Training

Burn Fat

Make your 6-Pack visible

Tone your muscles
P90x will mainly help you:
Strengthen your muscle

Get more flexible

Tone your muscles
Insanity or P90x – Why not both?
Hopefully now you have a clearer idea of which program will suit you best. If not I would also recommend you check out Brian Prost's excellent Insanity vs P90x review, which goes into even more detail about the differences between these.
I also wanted to make a suggestion to you. Since both training programs are excellent. There is not much that can be said against any of them. If you are new to working out at home, I'd suggest that you start with P90x and move on to Insanity once you've completed that. However, once you've completed both programs, you may want to combine them. This is something that many people do to get a complete training program. You get all the benefits of the Max Interval Training and the Muscle Confusion Technique combined. This means for you that you will burn fat, train your endurance, and strengthen your muscles. There are several ways to do this and I don't want to go into detail here. You can either develop your own training schedule or you can follow one of the many training schedules that were created by other users of the program.
Conclusion Insanity vs P90x
It is clear that Insanity and P90x are both some of the best workout programs on the market. Both aren't for the totally untrained beginner and both won't help you bulk up muscles, but these are really the only downsides of the programs. If you know what you want to achieve, it is easy to decide which program is right for you. If you are unsure, I recommend that you first use P90x and then later on consider buying Insanity.
To give you a final summary, here is a table for the comparison Insanity vs P90x:
=>> Try P90X Fitness Revolution RISK-FREE for 90 DAYS <<=
=>> Get The Insanity Workout NOW with Loads of Freebies and 30-DAY Money Back Guarantee <<=
Post # 36 : "Insanity vs P90x – Which of those two workouts is better (for you)?"