P90x Reviews – How This Intense Workout Helps You to Shape Up in 90 Days
This workout program has been around for quite a while now and many P90x Reviews have been written. Since most of those reviews of the P90x program simply tell you if the program worked for the writer or not, I decided to write a more thorough one. I want to give you a chance to decide whether the P90x Workout Schedule is for you. Before I go into more detail, let me give you a summary of what I found out. First of all, this isn't a program for the lazy. P90x is a 90-Day program that you need to invest 1 hour a day in for six days a week to see results. And those results are great! If you stick with it, you can expect to experience something that can only be described as a full body transformation. If you want to bulk up muscles or aren't willing to invest some effort in reaching your goals, this program isn't for you. However, if you want to LOSE WEIGHT, feel better, get that "beach body" of your dreams and you are willing to work for it, this program is for you. P90x is an excellent program that helps you increase your overall fitness, but there are a few things that you should know. Keep reading to find out what this is all about and whether you should consider buying the P90x Workout Program. This will save you a lot of time reading other less useful P90x Reviews.
How Does P90x Work?
The P90x program is not only a set of 12 workout DVDs. It is a complete 90-Day program that also encompasses the P90x nutrition plan and gives you a detailed training plan and instructions. If you follow these instructions and the workout routine precisely, you can expect to experience an overall greater level of fitness and a lower body fat percentage. I recommended P90x to some of my clients that couldn't come to personal training sessions for a few months. All of them lost at least a few inches on their waists; they toned their muscles, and they all told me that they feel more comfortable with their body now. So, how do you use the P90x Program? Six days a week you work out using a different P90x DVD according to the training schedule. The workout is arranged in three phases that I describe in more detail later on. Basically you have 3 phases of 3 weeks with a focus on strength training separated by one week of cardio workout and regeneration. Every workout takes you between 1 and 1 ½ hour. Here is what you get when you order the P90x program:
12 Workout DVDs

Chest & Back (52:50 min) – Strength Training for your pectorals, back, biceps, and triceps. Used in weeks 1-3, 9, and 11

Plyometrics (58:36 min) – Cardio Workout, especially for your legs. Used in weeks 1-3, 4-7, and 9-12.

Shoulders & Arms (59:53 min) – Strength Training for your biceps, triceps, and shoulders. Used in weeks 1-3, 9, and 11.

Yoga X (92:24 min) – Stretching to protect and lengthen your muscles. Used in weeks 1-13.

Legs & Back (58:56 min) – Strength Training for your quads, hamstring, calves, and back. Used in weeks 1-3, 5-7 and 9-12.

Kenpo X (58:46 min) – Cardio Workout for Fat Burning and Endurance. Used in weeks 1-13.

X Stretch (57:32 min) – Stretching to protect and lengthen your muscles. Used in weeks 1-13.

Core Synergistics (57:27 min) – Strength Training for your whole body. Used in weeks 4, 8, and 13.

Chest, Shoulders, & Triceps (55:44 min) – Strength Training for your pectorals, shoulders and triceps. Used in weeks 5-7, 10, and 12.

Back & Biceps (51:36 min) – Strength Training for your back and biceps. Used in weeks 5-7, 10, and 12.

Cardio X (43:16 min) – Cardio Workout for Fat Burning and Endurance. Used in the Double program (explained later).

Ab Ripper X (16:07 min) – Strength Training for your abs and core. Used every week.
3 Guides
P90x Fitness Guide – An outline of the entire program and an explanation of each exercise. It also includes instructions on how to customize this program to your needs.
P90x 3-Phase Nutrition Plan – A detailed nutrition plan that includes recipes and daily meal schedules to reach your goals even faster. This way you can get as much protein, fat and carbohydrates as you need and stay below your calorie allowance.
"How To Bring It" – A video that helps you to get an overview of the P90x workout program. It tells you how to get started and how to get the movements right.
P90x follows a unique approach that was developed by fitness coach Tony Horton, a guy that has more than 20 years of experience in his field. He calls the technique that he invented Muscle Confusion and what this basically means is that you avoid the usual training plateaus by training your muscles in a different way each time. As you can see in other P90x Reviews, this is really easy because of the training plan that you get with the fitness workout program.
I read some other P90x Reviews. What do I really need to buy besides the program?
Some of those P90x reviews mention a lot of things that you CAN buy besides the product. While there are some nutrition products available, this doesn't mean that you have to buy them. All that you basically need is a set of dumbbells; you can also use resistance bands, and a chin-up bar. Depending on how sophisticated you are, you might also be interested in buying some push-up stands, and a yoga mat. Especially when you are new to exercising, I recommend that you get a heart-rate monitor. This will help you to stay near your target heart rate.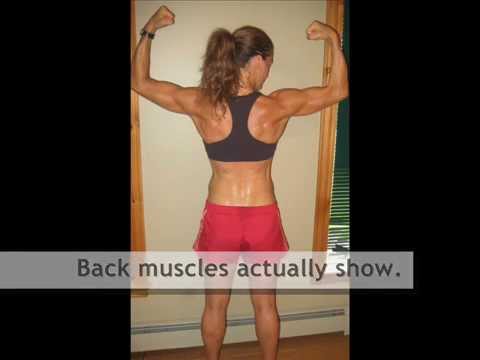 Watch this video and see the transformation of a REAL P90X user.
What is the P90x Workout Schedule? How much time do you need?
Each of the 12 workout DVDs features videos that target a separate body region and they are used in the unique workout plan. What this means is that you have a comprehensive workout that remains exciting for a long time and works all of your muscles. This is great, because a single workout DVD not only doesn't target all important body regions, but also tends to get boring pretty fast. Throughout the 90 days you need one to one and a half hour a day. The P90x Workout Schedule arranges the DVDs or workouts into a plan that goes hand in hand with the nutrition guide and that is stretched out across three phases:
The Fat Shredder Phase: You focus on eating a lot of protein and building up your muscles. This will help you to lose fat quickly and also to build and strengthen your muscles for the remainder of the program.

The Energy Booster Phase: As your body adjusts to the higher intensity of the workout units, you move your nutrition to a mix of protein and carbohydrates. This way you have more energy while working out and you will feel better over the whole day.

The Endurance Maximizer Phase: The last 30 days focus on establishing more permanent results. Your diet changes to a more athletic diet with complex carbohydrates that provide you with energy for long and intense workouts.
This is the general program that is suitable for most people. However, as other P90x Reviews will tell you, there is also the option to adjust the schedule to your needs. If losing weight is what you want to focus on, you can change to a Lean version of the program that mainly uses cardio and stretching workouts. To prepare for a sports competition, you can use the Double version of P90x. This means that you will spend 2 hours working out every day, mostly by complementing strength training with cardio training.

What does it take to see P90x Results?
To be honest: The P90x Program is very hard and the writers of many P90x Reviews complain about this. Yes, this program is really though, however it will also bring you great results. This is not one of the DVDs that promises to bring you great results in 5 minutes a day and, of course, doesn't deliver. Ask yourself: Do you really want to achieve your goals or do you just want to spend money on something to feel better? I recommend that you track your workouts and your results, so that you can keep your motivation up. Don't forget that even a few lost pounds are a success! Once you stick to this program for a while, you will see how your body adjusts and doing the exercises becomes easier. What may make you feel better is the fact that the creator of this program doesn't expect you to be able to follow the program right from the start. In the "How To Bring It" –Video, Tony Horton explains that you should do as many repetitions as you can. There are some exercises, especially the Plyometrics or plyos that are very hard for the beginner. The great thing about the P90x program is that it doesn't let you down in those cases. You get tips and ways to adjust the exercises in such a way that you can do them and follow along.
Does P90x Work?
Yes it does. This is a question that I get asked a lot. Like any other fitness workout program, P90x works when you follow the instructions. You can see this confirmed in many other P90x reviews. Of course, you don't see immediate results; the first week may be pretty hard as your body gets adjusted to the workouts. To see your personal results, I recommend that you closely track your progress. Get a scale that not only measures your weight, but also calculates your body fat percentage. If you are at all unsure whether P90x is something for you, you can go to their homepage where they provide a fitness test that will tell you the answer.
What you can expect: P90x Before And After
The P90x program was designed for men and women alike. You can see that this is the truth by reading the success stories shared in many P90x reviews. I ordered a few copies of this system for my own clients and gave it to them so that they could try it out. I made some small adjustments to their training plan to make it fit with my clients' overall training concept. All of my clients really enjoyed working out with the DVDs, especially since Tony Horton has such a pleasant personality and always keeps you motivated. This program definitely helped my clients to intensify their workouts with additional sessions at home.
Below are some of the "before and after" photos of actual P90x users.

How Much Does P90x Cost?
P90x is available for 3 monthly payments of $39.95, which is less than most of today's gym membership costs. You can select a single payment option, if that's what you prefer. If you don't see any success after 90 days, there is a 90-DAY MONEY BACK GUARANTEE that you can make use of. So this way you really have nothing to lose. Here is a warning: While there are other distributors that sell the program for less money, you should be aware that there are many pirated and bootleg copies out there. This is something that I read in other P90x reviews that rated the program very badly. I contacted the author only to find out that they got some poorly labeled pirated DVDs. Stay on the safe side and order from the official homepage. Only with the original DVDs do you get all the features like a direct selection of the workout routine and exercises that you want to do.
=>> Click Here and Try P90X Risk-Free for 90 DAYS <<=

Summary of this and other P90x Reviews – Who is it NOT for?
After gathering all this information from my own research, my clients' experiences and other P90x Reviews, I can give you a conclusion. This program really is for anybody who wants to increase his overall fitness and lose weight. However, there are a few exceptions:
This program won't help you build up massive muscles. If you are a bodybuilder that wants to bulk up quickly, this program isn't for you.

With this program you don't get something for nothing. You will see great results, but you have to be willing to train hard.

If you have massive weight problems or you have problems breathing after going upstairs, then this program will be too hard for you.
This program is a great overall training for your whole body. If you stick to it and follow the workout plan, you'll definitely see some amazing results and get closer to that beach body you always wanted. That's not all; you will grow much more self-confident as you look upon your achievement. Don't give up and trust the program. Go and try it out, you owe it to yourself; I am sure that you will have the same experience as many other success stories in P90x Reviews.
PROS
It is a very intense home workout program that will help you increase your overall fitness.

Your hard work will be rewarded.

Included nutritional guide makes this a holistic program.

Special instructions for beginners.
CONS
Doesn't help you bulk up muscles.

Not for the totally untrained person or person with serious weight problems.

Not for the lazy.


=>> Click Here and Try P90X Risk-Free for 90 DAYS <<=
Post # 67: "P90x Reviews – How This Intense Workout Helps You to Shape Up in 90 Days"
P90x Reviews – How This Intense Workout Helps You to Shape Up in 90 Days